coolbreeze's christmas
the year 2000 was very good to coolbreeze, and christmas was no exception. after watching jim carrey's interpretation of how the grinch stole christmas i learned the valuable lesson that christmas is all about gifts. i've always known this fact in my subconscious, but over the years my unimaginative parents have forced me to seek deeper meaning in this holiday season by giving disapointing presents like a lock de-icer for the car, or treats for the dog or cat in packages with my name on them. this year was different. my gifts were good enough for me to understand that true meaning of christmas.
here are some highlights of the various surprises i recieved from friends and family:
a remote control volkswagon beetle - my mother originally bought this gift for my brother, but since the car is too huge for him to use in his small loft in halifax, i was the lucky bastard she gave it to. this machine is sweet. it's to scale to a real beetle 1:6. the details on it are remarkable. the interior, hood, and trunk are identical to the real thing. it even has seatbelts. i can't wait to drive this thing down university avenue.
the george foreman grill - my mother gave me this gift with the intention of pissing me off. whenever the champ's infomercial was on tv, i'd have to take the phone away from her before she ordered the grill. i didn't just try to prevent her from buying it because she always buy crap off television and never use it (we have a fruit dehydrator somewhere in our attic), i thought it would be stupid to buy george foreman's grill since we already have a grill. anyway, despite my warnings, and logic, she bought the grill for herself, put my name on it, and gave it to me for christmas. when i discovered what she did, i was a little upset. but after eating a few meals made on it, i'm happy with the quality and speed of it.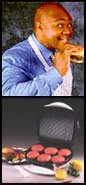 an electric shaving cream dispenser - i'm not sure why my friend craig picked this gift out for me. when his brother received the same thing from him, he was excited because he was thinking about grooming right before opening the present. it turns ordinary cold shaving cream into warm, soothing lather. i'm curious to what it can do to cool whip.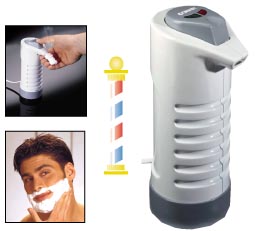 a miniature accordian - i've always thought that the next big step in my musical explorations would have to involve either bag pipes or an accordian. my brother got me a small accordian to get things started proper. i have no clue how to play it, but it the sound quality is pretty good.
naomi klein's no logo - this book is full of cool info on consumerism, anti-consumerism, activism, and capitalism. my brother gave it to me, but i think my sister could probably use it more than me. we stayed an extra day in halifax so she could shop at the gap during their boxing day sale.

a windom earle guitar strap - my brother's girlfriend, beth, made the ultimate rock star present for me. it's a personalized strap with my band's name and a lightning bolt.