thurday march 8 - the interview with canadian creative is up. it's more of a profile than an interview, and they put up some old tunes that brought back a lot of memories.
speaking of memories, here are pictures from the february 8th show at fishbones featuring mike macdougal and jon holmes on percussion.
coming soon: month old pictures of the alter-cases.
****
wednesday march 7 - matthew doorbell posted one of my works in progress on his stinky little website. keep in mind that it is just a rough draft of sweatpants, and as soon as i find a good beat and an old school bassline i'll do something with it.
i did an interview today with canadian creative, my favorite website on canadian culture.
check out my other favorite website on candian culture every friday for everyone's favorite column, fact and opinion.
i wish i could go to halifax thursday to see the launch party for pip skid's new album. check out his latest masterpiece hypochondriac then visit a doctor.
****
monday march 5 - if darren aronofsky makes his version of batman half as disturbing as requiem for a dream, then he's going to make tim burton's batman look like joel freakin' schumacher's.
****
saturday march 3 - a more appropriate website for a movie does not exist.
****
sunday february 25 - i can't believed i missed this. i posted it to my favorite website a while ago.
here are some reviews of my own shows from the ecmas and one from a hardcore show i did yesterday:
thurday feb 8 at fishbones was cool. john holmes and mike macdougal looked like they were having a blast, which is my main goal of doing live shows.
friday feb 9 at the barn was good, but i was stressed out, we played too early, and i did all of the songs on electric guitar out of laziness (i rather playing acoustic, but i usually run into problems).
sat feb 24 at the arts guild was a lot of fun, but kind of strange. brodie couldn't make it because was injured and way to much other stuff on his mind (like getting school work done and opening for the monoxides). so i did a solo set with just me, my acoustic guitar, and the mini disc player. it went surprisingly well, but i missed having someone else on stage.
****
tuesday february 20 - i have to say that rock ranger's new album is the best cd i've heard all year.
here's a review of last saturday's alter-cases at brennan's:
Saturday afternoon at Brennan's Pub ended up being one of the most special moments of ECMA weekend for me. It was Day 2 of the Alter-Cases, and I should have been sleeping after a long and memorable night at the Barn. The concept of this show was going to be a brunch/concert with an assortment of unknown Atlantic Canadian artists. Unfortunately the timing of this show and the venue proved to be detrimental to attendance, but thanks to the bands and some really supportive fans of the Sydney music scene it turned out to be one of the most special events of the weekend.
The Butterfly Effect from St John opened the show with a wonderful ambient set. Andrea Curry and Perfeckt Blue from Sydney were up next. The band's jazz influences combined with Andrea's folk style make a compelling and unique pop sound. The Jody Chapman Band were like a more mature polished version of Perfeckt Blue, but lacked their warmth.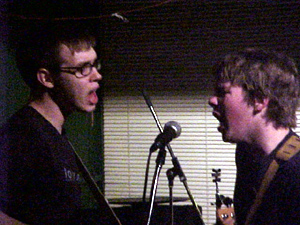 In my opinion, the noises made by The Rudy Huxtable Project created the most excitement of the weekend, and they gave everyone in attendance a sneak peek into what the evolution of rock music can be. They were true originals, and played their instruments in innovative ways I could never imagine possible with tremendous punk energy. 3 Piece Suit, a surf-rock outfit from Industrial Cape Breton were a ton of cool fun with their set of sunny instrumentals that almost made me forget that it was February. GuiltTRIP defied all expectations and played one of the best sets I saw all weekend. I'm not sure whether I was more surprised at how much energy and passion this band hammered into every song they performed, or that they actually opened my mind into enjoying heavy metal music as much as I enjoyed them. Charlottetown locals and ECMA nominees, Flush, did an excellent job rocking out with their typically tight set, and emotional energy. Coping were a perfect, quality pop rock band from New Glasgow that did a great job representing mainstream music among such a diverse crowd. Stumble were a unique folk act with a trippy vibe. East Coast rock veterans, Madhat, who were nominated for best alternative band at the ECMA's, played a great rocking set of pop music. I was happy to see the return of Summerside's punk/power pop group, Lending Jane, who did a great job entertaining the audience with their aerobic stage presence and catchy punk tunes. Due to a misunderstanding with the bar, we had to wait an hour after Lending Jane's set before Port Citizen took the stage to wrap up the Alter-Cases. I went home and tried to get some rest during this break, and ended up missing Port Citizen's set. But having seen them play several shows this weekend, I think it's safe to say that the best rhythm section in Charlottetown blew everyone away with their repertoire of mellow reggae and dynamite rock songs.
here's a review of some of the hip hop artists that played here last friday:
I'm not sure who felt worse, DJ Gordski from the Goods, or their roadie who dropped and broke Gordski's mixer. Things got off to a bad start for the Goods because of that accident, and a few technical difficulties, but that didn't prevent lyricist, Kunga 219, from giving a memorable performance Friday night at the Barn. Kunga's spiritual reflections combined with Gordski's dreamlike prerecorded beats and samples exposed the audience to a higher level of intelligent entertainment and some of the best independent hip hop in Canada. Despite the lack of a mixer, Gordski managed to entertain the crowd by mimicking scratches and DJ actions during Kunga's set.
Watching Pip B Skid of Fermented Reptile perform is like seeing the genetic splicing of Chuck D and Flavor Flav into one man. He's got a lot of serious things to say, but he is also aware of the value of entertaining a crowd with his twisted sense of humour, dance moves (which included a reference to MC Hammer at one point), and skills on the mic. He exposes issues that most people do not feel comfortable talking about (rape, racism, minimum wage), and forces the audience to seriously contemplate these things with a captivating performance that never comes across as being too preachy. An artist with a conscience as big as his talent is a rare find. Not only did he give me a lot to think about, but after seeing how his performance affected the people around me, I felt hopeful that Pip is spreading awareness of huge issues to audiences that never would have gave these things much thought otherwise.
****
monday february 19 - well the ecma's almost killed me. i've been coughing my lungs away the past couple of days, and when i wasn't coughing i was probably asleep to make up for all the time i spent awake last weekend. i should have a ton of pictures and stories up on this site as soon as i regain my health.
****
monday february 5 - yet another facelift to the windom earle lineup for some upcoming shows during ecma weekend. while pete macdonald and jon holmes won't be playing along, mike macdougal from eyes for telescopes will add some cool percussion. he has some neat toys, and plays a mean triangle, so this should result in an awesome collaboration. and brodie read will be playing bass, so, as of now, parts of two of the best bands in charlottetown, port citizen and eyes for telescopes, will team up like the harlem globetotters and the gang from scooby doo. we will be solving mysteries after the show thursday.
here's the schedule for windom shows this week: thursday at the fishbones cafe at 8:00, friday at the upei barn at 7:00 (for the alter-cases, and sometime sunday at brennan's.
rock ranger's new cd will be available this week when they play the alter-cases at the upei barn. word on the street is that my remix of give me the shotgun is a hidden track on it. i can't believe it.
****
thursday january 18 - here it is. i finally remixed a song. the song in question is shotgun, a rip roaring remix of rock ranger's righteous tune, give me the shotgun.
and i managed to kill to birds with this stone: not only is this a product of the remix exchange, but it is also my submission for the the sound of chrysler experiment.
basically, the sound of chrysler is a compilation of tracks "featuring samples taken from the electronic voice alert system such as that found on a 1984 Chrysler New Yorker." i think it's a very cool idea by the brains at nationwide clyde inc, and possibly the best use of mp3.com as an artist's community i've ever come across.
i'm also very happy to announce that rock ranger, along with my heros of hip hop: buck 65, and fermented reptile, will be appearing at the alter-cases during ecma weekend.
****
friday january 6 - the new technology is now available.
****
thursday january 5 - i got off my laurels long enough to finally make a remix of clumsiest cannibal that i'm happy with. what this means is that i can no longer procrastinate in releasing the new album because all of the songs are finished. an mp3.com DAM CD is in the works - but meanwhile check out the new mix of cannibal for shits and giggles.
for non-windom earle related news, check out the newly revamped coolbreeze city.
****
thursday december 28 - i didn't think i'd make it, but after leaving halifax yesterday morning, i arrived in time to practice before the first big windom earle show at brennan's last night. this show was the first time i got to use the mini disc player, it was the first time this year i played a show without any skips in the samples, and it was the first time sarah played with pete and brodie. things went relatively smoothly, and the show was a success.
eyes for telescopes were amazing, and super friendly. before our show, their drummer, mike macdougal, jammed with pete and brodie for a bit. they played some funky improvised songs.
****
thursday december 21 - yesterday was the first windom jam session with brodie and pete since october, and the first with sarah since this summer. it went surprisingly well, and we added an extra twenty minutes to the upcoming set wednesday the 27th at brennans. we'll be opening for eyes for telescopes. it should be great, if i can get back from xmas with my family in halifax in time.
****
tuesday december 19 - thirty minutes after finishing my last christmas exam, i drove to nova scotia to see ron sexsmith. his solo performance in halifax was perfect. it was pretty special considering his first indie album was available on cd for the first time at this show, he played new songs off his next album, and he did covers of abba and leonard cohen (download his version of that's no way to say goodbye on napster). his guitar playing, vocals, and collection of beautiful songs made the trip to halifax more than worth it.
last night i stuck around helltown to check out lars von trier's dancer in the dark featuring bjork as a fan of musicals who is going blind. von trier's dogma style and harsh realism was emotionally draining, but for every tragic scene in the film there would be a fantastic, happy musical sequence. the movie was an uplifting tragedy about the power of imagination, and bjork's performance was surprisingly great.
while in halifax i was also able to record samples from episodes of fishing with john for future windom earle performances. next week at brennan's our set will consist of samples from the great canadian documentary, project grizzly.
****
friday december 15 - it looks like windom earle will be playing brennans on the 27th with brodie read and pete macdonald. this will be a chance to dust off the ol' mini disc player, and work on an extended set. right now this is just a rumor, but i'll clear things up as soon as i get back from halifax to see ron sexsmith.
check out mainstreet on cbc today to hear me review vertical limit.
****
saturday december 9 - i reckon we've come to a compromise. stealing copyrights is a victimless crime like punching someone in the dark
****
friday december 8 - where's the crime in naming a song after a shitty movie? this is why gone in sixty seconds is not up on mp3.com yet:
Status: ON HOLD This item has been put on hold.There is either a copyright issue or something wrong with the MP3 file.
there is nothing wrong with the mp3 file, so the problem is a copyright issue. what copyright have i broken? the song is an original remix of a song i wrote. so they must have a problem with the title of the song. the funny thing is that the jerry bruckheimer film, gone in sixty seconds stole the title from a 1974 b-movie.
****
thursday december 7 - i just found a remix i made of she's gone earlier this summer. it's a bit sloppy, and about sixty seconds too long, but i uploaded gone in sixty seconds anyway for shits and giggles. i planned on releasing the remix earlier this summer to see if my downloads would increase because of a song title that makes reference to the number one movie at the box office at the time. but i fucked up, and blew that chance just like the time i released varsity blues a year too late to cash in on the success of james van der beek's hit film. i think the movie, gone in sixty seconds, was recently released on video, so hopefully i'll be able to generate some interest from the losers who wait for movies to get released at blockbuster before they watch them.
there may be some problems downloading it, if it doesn't make it past the mp3.com lawyers. they'll sniff this one out for copyright violations because of the title, and the fact that i uploaded a picture of angelina jolie as its album cover.
if this works, stay tuned for my next song, dude, where's my car.
****
wednesday december 6 - an article about paranoia in the music industry.
****
sunday december 3 - get funky with aretha.
****
thursday november 30 - holy shit. there's nothing like a good song that uses a phone call of a semi-amateur weight lifter with a tail. beck knows what the fuck is up with zatyricon. napster that track.
as soon as i'm done handing in late assignments, i have some musical plans, and i still have to remix the songs i said i'd do a year ago.
some other time-consuming activities planned for this winter involve organizing the east coast music awards no-cases.
****
sunday november 19 - yesterday i downloaded the marvin gaye song, t plays it cool and played it on a continuous loop. it's the type of groove that makes a white boy like myself want to freestyle some phat rhymes.
i recorded port citizen's performance friday night at the barn on my mini-disc player. it came out super clear. i'll post some mp3s of the show on their website soon. in the meantime here's a sample of the show.
****
saturday november 11 - today's rememberance day, so i'm going to try and take the time to memorize all the shit i need to know to get caught up in my classes at school.
a review i wrote for rl burnside's latest album, i wish i was in heaven sitting down has been posted to the back alley discs website.
windom earle will not be opening for port citizen this friday at the barn. besides not having our set recorded on mini disc yet, the opening slot had been promised by the barn to negative jay. i will try and record port citizen's set on mini disc to see what quality i can get from taping live shows on my new toy.
port citizen will be recording their new cd next saturday, so i hope to get to watch how recording is REALLY done.
the faction (the unofficial student newspaper of upei) is getting all sorts of undeserved attention in the local media for our ad issue. i was even quoted in the guardian, for christ's sake.
****
wednesday november 8 - my clever ruse worked, and now steak has been approved and uploaded to the windom earle remix exchange. i think they must have took issue with the name of the previously uploaded song, steaks is high because it resembles one of de la soul's album titles.
windom + port citizen may be playing the upei barn some time in the future. i've begun the search for new samples to use for the live show by going through five of the final episodes of twin peaks last night.
****
tuesday november 7 - leave it to the fuckers at mp3.communists to ban vince's steak song for "copyright infringement" when there are absolutely NO samples on it that were not played by either vince or myself. no worries, i uploaded it again under a new title in order to slip it past those fascists.
****
sunday november 5 - enjoy some steak care of vince's samples.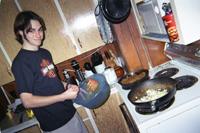 slowcoaster put on a fantastic show at baba's friday night.
****
tuesday october 31 - here's some beefchowmein for all you trick or treaters. the mp3 is from the show at baba's last week and features port citizen providing music, and windom earle on the mic. the quality isn't great because i grabbed it off a home video recording of the show.
****
saturday october 28 - i just uploaded the first of vince and my collaboration to the windom earle remix exchange. he took a voice message of me, plus some samples i sent him and made a song called, you have one new message. i sound kind of drunk in it.
i tried uploading a graphic he sent me to go with the song, but i kept getting error messages from mp3.com. i can understand why...

i bought a mini disc player the other day. it's fan-fucking-tastic. it has a mic input, so i plan on doing some digital field recordings, record phone conversations, and get as many original samples as i can. i hope to make a new set for live shows with the help of port citizen too.
****
wednesday october 25 - no more playing live over cds. i am determined to get a mini disc player after the technical disaster of our latest show at baba's lounge. port citizen were amazing as always, and we did killer versions of beefchowmein and i wish you were mary, but the rest of the set was full of cd skips and cd skips and cd skips. so i am retiring the vanilla ice set.
a new set of back up tracks will be good because the whole band can work on the structure, and we can make a longer set. so i'm off to futureshop tommorrow to start the hunt for a mini disc player.
meanwhile, check out the pictures kent took of the baba's show in the visuals section.
****
tuesday october 24 - tonight's the night of port citizen's first show in two months at baba's lounge in charlottetown. opening for them will be yours truly playing with port citizen. our practice sunday sounded great. and i found the cd from the barn, so there will be vanilla ice samples.
i hope to record new stuff real soon. brodie and i jammed for a bit after the practice, and if i could capture any of that on goldwave, minds will be blown.
i recieved some samples from vince for a new song, and i recorded my casio rapmaster for the samples i'll send him.

****
thursday october 19 - if anyone's interested in checking out the windom earle/port citzen connection, go to baba's lounge - the coolest bar in charlottetown - to hear some far out sounds tuesday night. since i left my cd of beats and samples with the sound guy from the show at the barn, this perfomance will be 100% live, unless i bring my computer or something.
props to cblocals.com, and i forgot to post this, but windom earle world was added to the island web at island edition. i also traded links with american artist, eba's website violentnation.
vince lavers and i are planning on doing music collaborations over e-mail. and i'm also currently working on web site where i will do the soundtrack to michael macdonald's poetry.
****
wednesday october 18 -some new pics from the show are up.
press reload on this page to see the latest feature on this site. thanks to kent brownell of the basement co the graphic on the top of this page will rotate. purple monkey dishwasher.
****
tuesday october 17 - i've got some pics-aidekaphopia from triskaidekaphobia.
****
monday october 16 - much east is unwatchable. i don't understand why mike wouldn't check out ten of the best bands in atlantic canada at triskaidekaphobie, but he'll devote entire shows to great big sea. this week he did an interview with scratching post. i'm really interested in what they have to say...like fuck i am! so on my shit list right now is much east, big brother, caseys lounge and red liquorice.
enough bitching. some good news...my interview with god - i mean dutch robinson - has made it on the national university news wire. woo hoo! meanwhile you can check out the story in words of wisdom.
pictures of buck 65 and windom earle, plus other triskaidekaphobia moments, should be up tommorrow.
i just checked out lars von trier's dogme 95 comedy, the idiots, which may be a good description for the people behind the cameras on much east. anyway, it was truly disturbing, and funny. just like the other sister.
i updated the links section, and made all of the pages on this site consistant with the design.
****
saturday october 14 - i played my first show with port citizen. the highlight would have to be buck 65 rhyming over beefchowmein. i was a bit worried about embarrassing him, but he was cool. he asked me during the song who came up with the name, windom earle. he's a total david lynch fan, and his girlfriend loves twin peaks.
the highlight for triskaidekaphobia was fermented reptile. not only was his performance original, daring, enlightening, and brilliant, he is also a really nice guy. i talked quite a bit before the show with him and his partner, jen, and it was great meeting them in person.
right now i have capers, slowcoaster and rock ranger sleeping in my living room. i missed their sets because i was running around trying to make the show run smoothly...which it did, so now i can relax until the capers wake up.
pics of the show (and proof that i actually did jam with buck 65) coming soon.
****
thursday october 12 - one day to go.
pete macdonald, port citizen's bass player, returned from calgary monday. he asked to join us during a windom earle practice on tuesday. today we went through the set around six times and are ready for the show tommorrow. i'm playing with port citizen...just like the poster said i would.
yesterday, kent and i went on mainstreet to promote the show. it was broadcast today.
i'm supposed to have fermented reptile and his girlfriend staying over my place tonight. we just confirmed transportation for buck 65 and his girlfriend, who will be staying at ryan o'connors. and tommorrow slocoaster and rock ranger turn my mother's home into a temporary house of rock. and then there's the show...
****
sunday october 8 - with my computer working, i'm discovering new obsessions thanks to a high speed internet connection. right now, i'm downloading momus songs from napster. at first listen, i wasn't sure what to make of this songwriter with a voice like butter singing songs like coming in a girl's mouth and my pervert doppleganger over cheesy k-mart keyboards. but now i'm hooked.
speaking of hideous keyboards, i am now the proud owner of a casio rapmaster. it sucks, but it has some funny sounds, hip hop beats, and built-in turntable for scratchlike effects.
the internet will never be the same now that mike gillis has launched troubled-youth. it's bursting with excellent content, brilliant quotations, and a sassy little goat.
for the first time since summer, i started to record again. i'm fiddling around with samples from a rock ranger song to make a remix. goldwave is working smoothly.
****
friday october 6 - a wonderful transformation is in the works for some old windom earle songs. brodie read has written some lyrics for the live versions of go there and i wish you were mary and the songs are really taking a life of their own. it's a beautiful thing to witness, and hopefully lots of people will do just that at 6:30pm next friday at the barn.
computer problems are even closer to being eliminated, which also means recorded versions of the revamped windom tunes featuring brodie should be happening soon.
with a high speed connection, i'll be able to upload new songs faster, but i also plan on putting up the majority of my back catalogue on the high octane page. there are over 40 songs i have yet to release to the public, but due to various copyright infringements, i don't expect many of them to actually get cleared. and for the ones that do get get passed mp3.com's lawyers, please keep in mind that i made most of those songs back in 1996.
speaking of songs that violate copyright laws, one of my favorite windom tunes censored from mp3.com has reappeared on the back alley discs website. check out foreign exchange student/swiss b-boy, pascal the rascal, on the muffin man.
****
monday october 2 - thanks to computer whiz, and all-around nice guy, andy macguire, the computer is closer to being 100% functional for my needs. my sound card should be working now (i haven't tested yet becuase i haven't reinstalled goldwave). the old modem, which i did not remove before, was causing all sorts of shit and prevented the sound card from recording. so that's taken care of. as for the internet, i can browse pages faster because andy reformated my computer and hooked it up with windows 98, but i still can't download shit because the network card provided by those fuckers at island tel does not work well with my computer. andy put his ethernet card in my computer, and it downloaded fine, so i have to get a different card.
a winner has been announced in the scooter contest. congradulations mcGrath. actually i'm kind of pissed because i was hoping nobody would enter the contest and i'd get the scooter by default. but at least now you know the contest wasn't rigged.
windom earle practices with jon and brodie have been quite successful. triskaidekaphobia will rock.
****
wednesday september 27 - things seem to be going from bad to worse with my computer. not only does the internet suck on it, but now my soundcard isn't working at full capacity. that means no new recordings.
it's a real shame too because i've been jamming with brodie read from port citizen and i discovered the soundcard problem while trying to record with him.
today i have a practice with brodie, and jonathan holmes (perhaps the best drummer on pei). we are preparing a set for triskaidekaphobia, which, if it goes as planned, should be the coolest show to ever hit pei.
****
monday september 18 - coolbreeze is back. i still don't have "high-speed" internet on my home computer, so this update is brought to you courtesy of the CADRE's computer.
i went to the atlantic film fest this weekend in halifax. i saw bingo - the documentary: a documentary about bingo; the trigger fires first: a documentary about columbia house and a guy who brought a camera to work every day to document his experience as columbia house's "alternative music" expert during the height of the grunge revolution of the early nineties; chunking express; this was presented as a part of a director's series hosted by canadian superstar, don mckellor, and presented by francois gerard; the bingo robbers: another bingo movie shot in newfoundland featuring newfie rockers, fur packed action; the worst jewish football team in the world: a documentary about a really bad jewish soccer team that play the sport for fun; and heimspiel: a movie about an east berlin hockey team and their fans that don't seem to have much fun playing sports.
it was a great selection, and i'm working on a review for the newspaper this week.
pretty soon, i'll put up the interview i did with dutch robinson.
the CADRE's first venture into showbusiness, triskaidekaphobia, is coming together nicely after only a couple days of planning, and booking bands. if we pull this show off, we'll be laughing. some sort of incarnation of windom earle should appear at this thingy. also on the list of bands is buck 65, slowcoaster, rock ranger, mike o'neill, fermented reptile, eyes for telescopes, etc. i'm exhausted fust looking at the list of bands.
****
sunday september 17 -Man is Stephan ever getting lazy. I guess he's in Halifax all weekend, where he has access to a pc, but what about his entries? Zilch. Bastard. So yeah, last night I said I was going to do an entry for stephan in my own diary at VincentLand.com, but I got lazy and searched for Sue Lyon pictures instead.
You know, I should really write about Stephan, but I havn't heard from him in so long that I don't really have much to say. On the other hand, I have tons of stuff to say about me. Who's me? I'm the guy in the picture up there, on the left, yeah the hot guy, you got it. Today at work, I was cleaning up broken bags of sand, filling up garbage. One of the lot guys came over and started making fun of the shitty job I was doing, he sat on a pile of sand and watched for a bit, then went to help a customer. But the thing is, that he dropped his cell phone (we all have phones at work) on the sand he was sitting on. So I burried his phone in one of the garbage cans. I burried it deep too. I told him I did it, but it was fun to watch him dig through three cans untill he found it, while I was saying "you're getting warmer, warmer..COLD COLD!!". He actually tried to call the phone to see which can the noise was comming from, but it didn't work.
So yeah, Stephan's sister went out with my brother once. Isn't that cute? I think they were both in grade 10. Yeah, me and Stephan coulda been related, weird huh?
I think I'm going to undo the top two buttons of my shirt now.
I have crazy homework tonight that I've been putting off for days. One more day shouldn't hurt.
Alright, I should split, listen to a windom earle song or something tonight, like high octane or something. Night.
****
saturday september 13 -Lucky fuckin number 13 baby! This is Vinsanity filling for a technically disadvantaged Stephan MacLeoud (spelling?). Stephan is currently waiting for a new network card so it might be a while till the triumphant Cool Breeze returns. Lately he's been spending alot of time at the paper, which looks really good. It has to be good, it has MY picture in it. Me and Stephan go way back. When we were little, we had neighbors who we always played pranks on. They were kind of like the nerdy Flanders family on the Simpsons. They hated us playing street hockey, kick the can, stickball, fucking everything. So we made their lives hell every chance we got. My favorite was the time we smeared shit all over their car winshield. We all walked down the railroad tracks to the tree swing, a place where boys and girls did naughty things to themselves and to each other, and took a shit on a newspaper. We carried the warm parcel all the way back down to the tracks and back into the neighborhood. We carefully unwrapped the parcel and quietly smeared the shit all over the front winshield. "Hoo-rah", we whispered, and dashed off as silently as we had come. There was alot sf shit there. We coated the thing. Not the sort of thing you'd think came out of 16 year old boys.
In the middle night, however, Stephan imagined that the flanders would find out it was us. Stephan suffered guilt. So he snuck out of his house and visited his nearby neighbor Wallace McMaster. "rat-rat-rat" on the window till Walace answered. "Hey, I need some Windex". Naturally Wallace asked, "why?" It's just not the type of thing you ask for in the middle of the night. So Stephan told him the whole story of the tree swing, the newspaper and the winshield. Wallace told him to "fuck off" and slammed shut his window. So Stephan ran back to his house and sneaked out a bottle of "Raid" and some paper towel, it was all he could find. Stephan approached the car as quietly as he could and and cleaned the shit off the winshield. I can't help but laugh when I think of him cleaning shit off a cold winshield in the middle of the night. Anyways, while he was cleaning, this huge turd rolled down under the engine bonnet. This worried Stephan for many days, he was worried that it would melt and blow up the engine or something. Isn't that sweet?
If you liked that story you'll probly like Stephan. He's full of shit too.
****
saturday september 9 - sorry i haven't updated all week. on wednesday i got a (so called) high speed internet connection. despite it's name, it's really fucking slow. i have to get my computer checked out, so in the mean time, i'll try and get vince to start making updates.
****
monday september 4 - new layout. kent didn't like me stealing the background from ted danson inc, so i stole the background from kent's site.
i realize that last week i promised to finish a song every week, but i was heavily medicated when i said that. i have more than enough samples to finish windom earle goes bananas, but i'm still trying to figure out how to piece them together. this song has a groove i've never worked with before. it's guaranteed to cause pelvic regions to thrust, the only problem is i've never made a booty-shaking song before, and i'm still learning. i hope to master the ass factor in songwriting. ever since strippers came to charlottetown this summer, i've wanted to compose music for topless dancers. strippers played a big role in the origin of rock and roll (which is slang for sex), and rock music today is anything but sexy. kid rock, korn, and eve 6's music is so bland. windom earle doesn't exactly bring to mind champagne rooms or thongs, but i think that's perfect territory to explore. it also brings new meaning to the title of the song, windom earle goes bananas.
archives