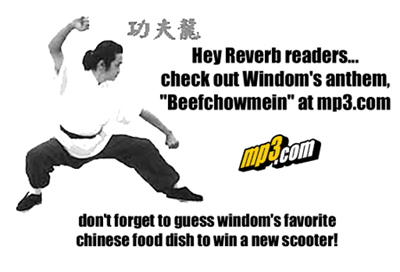 saturday september 2 dutch robinson is god. i saw his showcase last year at the ecma's in sydney, and he tore the roof off the place. when i found out earlier this week that he was playing the delta ballroom in charlottetown, i had no idea that i'd actaully meet the guy and have a chance to talk to him. i called up the people putting on the show late friday afternoon, and they told me to go to the lobby of the delta, and i could interview dutch for the cadre. i went down and hung out for a bit, but he was a no-show because of traffic on the confederation bridge. an hour later, i walked in on his soundcheck and he was happy to talk with me. i did not know a lot about him before doing the interview, but it went smoothly. i think the key to a good interview has nothing to do with the person asking the questions. the person being interviewed is the key, and how much they want to talk. dutch was open and honest about his past, and gave me more than a glimpse into his career of ups and downs.
i scored free tickets to the show, so the cinephile and i got the paper's new digital camera and filled several discs with pictures of dutch. here's a photo documentary i threw together this morning with the cinephile's pics.
the show was amazing. dutch made this white boy want to shout out "amen" during his set. he has so much charisma, a sharp sense of humour, and a voice that is filled with so much passion and soul, that hearing him live is as much a spirtiual experience as an entertaining experience.
****
friday september 1 in case you haven't noticed, the windom earle contest in reverb has begun. if you want a razor kickboard scooter, all you have to do is guess windom's favorite chinese food dish. if you need a hint, download beefchowmein, and play it backwards. for all you old school windom heads, i put beefchowmein back on the site for a limited time only. the reason i took it off mp3.com before was because their mp3police were randomly deleting songs they thought used unauthorized samples (including hip hop flowershop and muffin man) so i made beefchowmein available only on cd. so get it while you can. if anyone has actually stumbled on this site through the reverb promo, i have a lot more songs at mp3.com.
for anyone that hasn't seen reverb, here's the contest info:
****
thursday august 31 i've spent most of the week at upei. i'm the ad manager for the cadre, upei's student newspaper, so i've been out pimping ads, scanning pictures, and helping the cinephile, the paper's production editor/movie critic, put the paper together. actually, cinephile does most of the work, i just keep making the paper more difficult by throwing in ideas, and getting more ads than we have room for. so far, the paper looks really fucking good. it's better than i could ever imagine the cadre being. two years ago when i started going to upei, the paper was unreadable. i think with the cinephile on board, the cadre will be the best student paper in canada.
i've also been experimenting with sounds on goldwave. my deadline to finish a song by the end of the week is fastly approaching.
vince and i talked about switching web sites for a day. he'll do one of these entries, and i'll do his diary. the catch is that we have to write in each other's style and guess what the other person did that day.
****
tuesday august 29 there's going to be a whacky windom earle contest in the next issue of reverb. i have no idea what the challenge will be; hopefully something that involves getting massive downloads at mp3.com.
windom earle world got an honourable mention in this week's island edition. kirby, the founder of island edition, gave this site a shout out in his list of fave things.
i watched a ton of overdue movies i got from the library a couple weeks ago. i was able to hook my vcr up to the computer to get some phat beats off rhythm basics, a cheesy kids show. cinema verite was a really cool documentary about cutting edge film makers pushing the limits of documentary making. it traces the evolution of cinema verite, that use sloppy handheld cameras to show real situations, to commercially successful pseudo-documentaries like the blair witch project, that use similar tricks for dramatic effect. it was really interesting.
****
monday august 28 michael moore's new video for rage against the machine is on his website. i was dissapointed that much music did not include his last video, sleep now in the fire, in their eye popper's special. i think that was one of the most original and ballsy videos ever made. his new video for testify is about how homogenized american politics has become, and shows the similarities between gore and bush on a bunch of major issues.
i've made it my goal to remix one song a week. i'm so behind in the remix exchange that i still haven't even attempted to finish remixes that were requested a year ago. so after i finish windom earle goes bananas, i'm going to work on other songs. this summer has been fairly unproductive after i finished the rough cut of the latest album. if i stick to my song-a-week plan, the first volume of the windom earle remix exchange should be ready before my second album.
speaking of the remix exchange, an ad for the website was placed in the classified section of this month's issue of reverb magazine (with smashing pumpkins on the cover).
big brother sucks so much.
****
friday august 25 it's been a pretty long week. i've been busy the past couple of days, but now i'm relaxing in halifax. last night i went to see a special presentation of wes anderson's bottle rocket. the first time i saw this movie, i wasn't really impressed, but after seeing rushmore, i understood the humour in it a lot more, and now i like bottle rocket as much as i like rushmore.
mike clattenburg, former director of street cents and hip club groove's video, put on bottle rocket as a part of the atlantic film festival's director series. i met him four years ago, the first year i worked at the film camp in kensington. jonathan torrens and him came down to talk to the kids about making television shows.
the director series is going to have bruce macdonald present night of the living dead and (i think) don mckellor present the 400 blows. there's no way i'm missing that.
i also saw new waterford girl the other night. it probably has the strongest female roles i've ever seen in a movie. the writing and the acting were brilliant. i'm still not sure whether the director (who also made pump up the volume) was right for the job.
while i'm in halifax, i might as well check out the music stores. i'm looking for an e-bow.
****
tuesday august 22 this just in...according to the recording industry association of america (RIAA) and the national music publishers assn. (NMPA) - your computer's hard drive is not a home recording device, so the Audio Home Recording Act (AHRA) does not protect it! and MP3 files that reside on another napster user's hard drive are also not "digital music recordings." riaa are so fucking stupid and ignorant.
the best movie i saw this summer is godzilla 2000. it's so good. the japanese godzilla has a certain charm lacking in the american cgi version of godzilla. and the humans provide hillarious comic relief in between monster attacks. nothing could prepare me for the ending. it was so good, it hurt.
i saw a very disturbing documentary on fanatics, trekkies. not that it was intentionally disturbing, the filmmakers were very sympathetic to the people in the movie, but i was frightened by the merging of fantasy and reality in these people's lives. i still don't understand why star trek has this effect on certain people, but you'll never once see someone get dressed up as a character from spaceballs.
word on the street is that one of the best mc's in the world, sage francis, is on the opening credits for the x-games.
****
monday august 21 sarah, the girl in the middle of the picture above, is the most wonderful person i've ever met. she's always optimistic, friendly, and fun to be around. i met her when i started school here, and her friendship is the longest one i've had since moving to pei. when vince and i did our first show together as high octane, she was one of the few people i knew in the audience, and she took these pictures. ever since that first show, she has attended almost all of our performances, and we've talked about jamming together (at the time of the high octane show, she was in dressed to kill with vince). after vince left for calgary, sarah and i started practicing windom earle songs together to keep the band going.
when vince came back this summer, windom earle became a three piece and never sounded better. her saxaphone not only filled in the gaps left by just vince and i, but she brought the music to a whole new level. and it was really fucking cool to have a saxaphone in the band. i'm bored with guitar bands. all it takes is another instrument to make any band sound more interesting.
anyway, sarah is going to toronto next week because she was accepted at ryerson. she threw a big going away party last night, and it was really cool. she had a shed set up with a p.a. and some lights for music. i brought down my guitar and bass to jam. i never really jammed, in the improvisational sense, with other people and it was an awesome experience. i don't know all of the people that i played with, but every five minutes there was a different person picking up an instrument. there were a lot of great moments, and although i was worried about losing my friend and musician, sarah, i made a few more friends during the jam session. sarah and i have already talked about doing a christmas show when she comes home from toronto, and maybe there will be a few new members to the windom earle posse by december.
i didn't want to end this thing on a down note, but after we were jamming for quite a bit, a bunch of djs showed up and started setting up equipment next to us in the shed. i thought it was going to be cool to have turntables and beats over the jamming, but chris skinner, one of the djs, told us to stop playing when he started spinning. i thought that was bad etiquite, considering we were in the middle of playing. when we packed up and left, so did the audience. electronica is dead.
****
sunday august 20 i got my electric guitar back. i will no longer search underneath the mysterious pickguard. rock and roll.
i downloaded a music program called fruity loops. i don't think i'll be switching from goldwave any time soon. it's a cool sequencer with lots of phat synth sounds and beat samples, but i'd rather plunder the samples from it and use goldwave to sort them out.
i've been recording again for the first time in over a month. windom earle goes bananas is near completion. i might experiment with some of the sounds from fruity loops.
i checked out emmylou harris' wrecking ball from the library. it's produced by daniel lanois and has his trademark sound. she does a lot of really good covers on it. emmylou is girlpower.
****
thursday august 17 yesterday morning, prime minister, jean chretian, got a pie to the face in charlottetown. the pie prankster, evan wade brown, was charged with assault and released by the afternoon. later that night, i went to see fly jimmy swift again at brennans in downtown charlottetown, and guess who was in front of me in line for the bar...the lone pie-man. he was with a friend of mine, local activisit, leo cheverie. i didn't know what to say to evan because, from the footage i saw on the news, he looked pissed. but when i opened the paper today, his picture on the front page made him look more than friendly: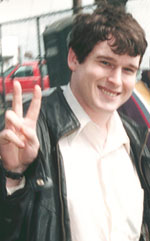 in other prankster news, i read a cool article on RTMark, an organization that sabotage corporate products in artistic/activist style. they claim responsibility for the switching of gi joe and barbie voice boxes in the toys a while back.
if you have a couple hours, check out david letterman's record collection for some vinyl gold.
****
wednesday august 16 boost found this...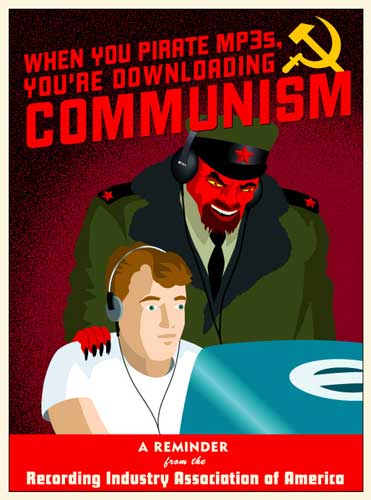 ****